We have 2 pure-bred arabian stallions standing
with live foal guarantee:
$600 pure-bred (resulting foal)
$400 part-bred (resulting foal)

Devine Design is a 100% Davenport bay Kayhaylan Haifi.

AS Tahir is black, Al Khamsa bred, half Davenport purebred Arabian.
Mare care during breeding: $230(field/paddock) or $395 (stall/turn-out)/month
$8/day (field/paddock) or $15/day (stall/turn-out).
Mare care for pregnant mares: $500/month or $20/day with/without foal (stall/turn-out).
You can bring your mare to us when she is due to foal..we'll monitor and make every
effort to ensure that she foals with help.
(We recommend bringing her 30 days prior to foaling)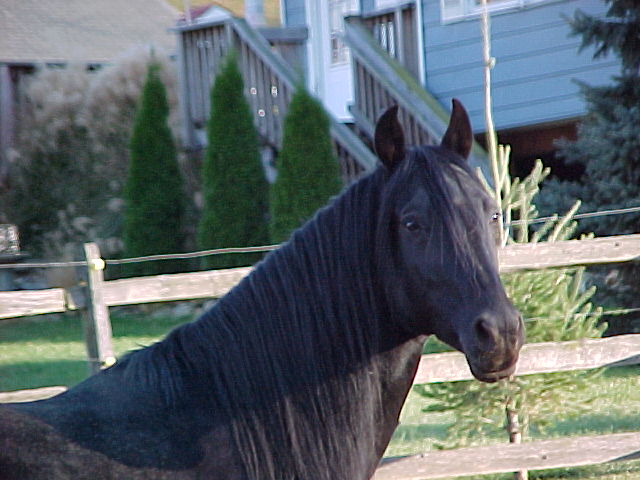 Sales: We sell young stock...usually before they are even weaned. Occasionally we get information on arabs available for sale.
A lease is $200/month and includes all expenses except your outfit. A lease is a great way to own a horse without having to purchase one. Leasing gives you the opportunity to decide if owning a horse is a commitment that you really want.
Stalls are 12 X 12 without a window, or 10 X 12 with a window. Flooring is unique 2X4 locust boards on end every 2 " separated with crushed stone. The entire system sits on top of a larger stone base. This system allows for drainage and minimizes need for large amounts of ammonia/bacteria laden bedding. Bedding is saw dust. The horses stand or lie on 4 inches of wood, one of the softest types of flooring. Floors are level as horses can not dig past the boards. There are no bowls in the middle from cleaning out urine spots. No twisted ankles or thrush here.
All stalled horses are handled twice daily to be led into or out of their stalls. We turn-out daily, weather permitting. Turn-out includes grass pasture or corral with hay.
Field boarded horses are grained daily. This allows us to monitor changes in behavior (off feed) and to identify any major wounds or unsoundness. We make every attempt to monitor the health and soundness of each horse on a daily basis. Field boarded horses are turned out to pasture when ground conditions are appropriate and grass is of sufficient length. Otherwise, field boarded horses are confined in the corrals or sacrifice areas and given hay.
Field board is $230 / month. Space is limited. Stall board is $395/month
For information or availability, please contact us!!
We have several horses available at this time for lease and others may become available. Students and current leasors are given first priority to lease or change the horse that is leased.
Give us a call!! 301-831-5083
Stall board with indoor arena
15 stalls with attached indoor arena
PRIVATE lessons (for new students) are $35/session on your own horse (or your leased horse) and $40/session on one of our school horses. Sue teaches basic dressage and balanced seat. Some semi-private lessons can be arranged with a slight discount.
(See Lessons Page of this Web Site)
MT. Airy, Maryland in Frederick County
Mark registered 1990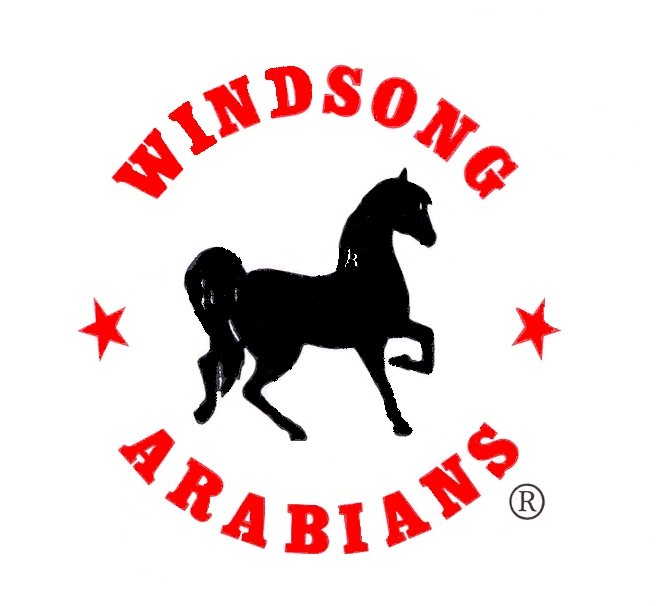 Windsong Arabians (TM)