Above All Else @ Windsong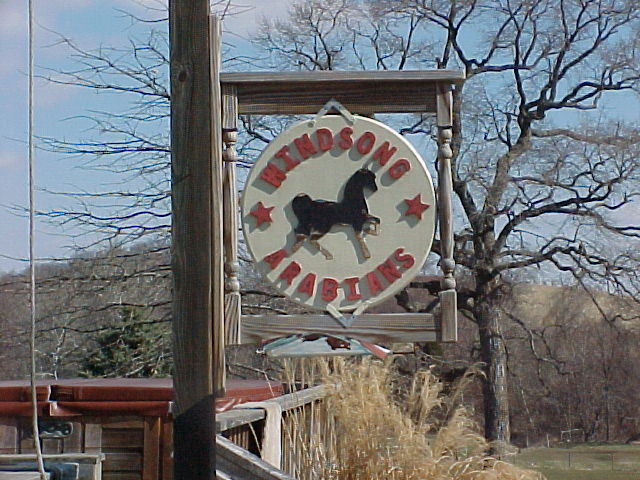 Maryland vacation rental house now with WI FI!
Welcome to our web site!

Above All Else is a Maryland vacation rental house with 4 bedrooms and 3 full baths, sitting in a secluded corner of Windsong Arabians (TM) horse farm. We rent this house to horse, nature or history enthusiasts. You can even bring your own horse. Savor life on a Maryland farm. Visit multiple historic areas within 60 minutes north, south, east, and west.
Enjoy a Maryland horse vacation with your own horse or, if interested, you or your children can help with chores or take a lesson. (We do not rent our school horses or provide horses for guests) If horses aren't your interest, have a sight-seeing day at many great historical sights around Maryland and Washington D.C. "Vacation" up to 2 weeks at our rental house while you're waiting for completion of your own home construction. Perhaps you are looking for a quiet retreat for a small group. This rental house, in eastern Frederick County, is a great place for families to gather for celebrations, vacations or family visits. Possibilities are endless (for up to 10 guests, no parties over 10 people) Give us a call.
If you are looking for a weekend for a special occasion, a retreat or accommodations for a wedding party (those folks in the wedding), a week's horse or family vacation, or up to 2 weeks while you are relocating or looking for a home, we may be able to meet your need. This is a great place to gather your family from across the globe with accommodations for up to 10 guests! We are 45 minutes from the Baltimore-Washington International Airport, 55 minutes (non-rush hour) from DC and 35 minutes (non-rush hour) to the Metro.
We accommodate up to 10 guests . We do not have the facilities to have parties, weddings, picnics, receptions, reunions, etc. for more than 10 guests.
Please check our availability calendar.
Note: We do allow well behaved dogs to stay at Above All Else @ Windsong, (check our rates page for cleaning fee) but due to the high incidences of feline allergies among our guests, we can not allow cats.