The following is what I speced on the car when I ordered it and is also on the BUILD ORDER:
B84 Body Side Mld
C24 Recess Wipers
C60 Air Condition
D80 Spoiler rear
K30 Cruise control
M38 3-5p CBC Auto Trans
NK3 Form Strg whl
N33 Tilt Strg Whl
N98 Raley Wheels/with locks
V57 Dtero 8-track Tape
V58 Stero Radio
WW7 FB Hood Emblem
WW8 IP Guage/Tack
WX3 R/A Shaker HD
Y92 Lamp group
I9R Black with I9X Black Trim
EXT PT Red
FBD Trans Am SP.C
Fuel Econ. AAA-ABD
(The remaining specs can be seen on the build order)
Interior clean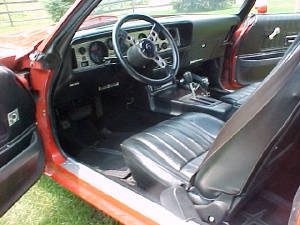 The head liner has been replaced. The driver's seat has been reuphostered once and is currently starting to show some cracks.... not real bad at this time, but will need to be reuphostered again.